ENGIE Factory has launched several cleantech startups in partnership with talented founders. While we have successes, there are also failures which we have learned from. To create the best chances of success for our ventures and founders, we are always looking for ways to improve the selection of talented founders and how to best support them. 
In partnership with the Economic Development Board of Singapore, Matt Buckland, Head of Talent at Rainmaking, joined ENGIE Factory Managing Director, Quentin Vaquette, in a webinar conversation to discuss the qualities and characteristics that make for successful founders of corporate-backed startups. Here are some of the takeaways from that discussion.
Having previous experience of starting a company is good, but not always an indication of success
While previous experience of starting a successful venture is certainly helpful, it doesn't always lead to a second success. In many cases, if a founder has already successfully exited a startup, they may not want to rush into starting another company. Alternatively, previous employees of startups may do well, says Matt, "We have found that people who worked in a startup, but were not necessarily the CEO or CTO can make great founders."
Quentin agreed, "Southeast Asia is a relatively young startup ecosystem, and so it means that the majority of great talent has not necessarily been in a startup… a lot of the people that we ended up hiring are actually ex-government agencies or ex-corporate. It wasn't obvious when we read their CVs that they would become great founders".
Having previous corporate experience is a plus… sometimes
Previous corporate experience can be a benefit, but only if the right skills were learned and the right behaviors shown. The top performers in a corporation are measured on the metrics that the company finds valuable, which might incentivise conformity to a hierarchical culture and following systematic processes. The top performers in the company may not be best candidates to start a new venture where there is no hierarchical structure to conform to and all the rules must be thrown out the window.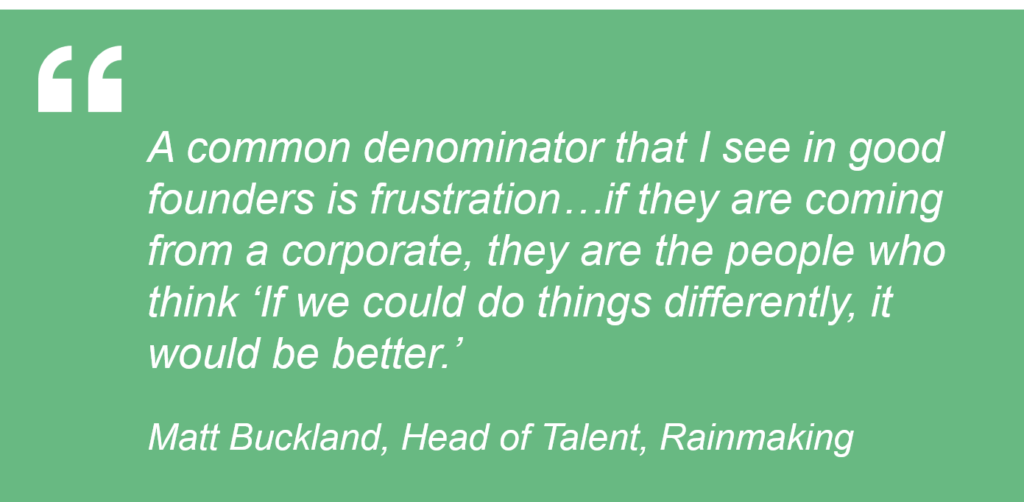 In addition to a slightly rebellious mindset, there are certain skills which can give ex-corporate founders an edge in corporate-backed startups. According to Matt "the really good founders I have worked with tend to over communicate." This lends itself well to corporate ventures where there tends to be a high amount of engagement and oversight from corporate stakeholders. Founders who have experience communicating with multiple parties and navigating the corporate agenda will have an advantage.
A broad range of exposure to different aspects of business can also be an edge. "It is easy to see the difference between people who have built a logical, sequential corporate career path versus people that have moved around the business and found their interest. We look for that broad, lateral experience." says Matt.
Behaviours and mindset are more important than hard skills
A perennial question that is whether it is more important as a founder to have hard skills and market knowledge or a winning mindset. Of course, it is ideal to have both; however, Matt and Quentin agreed that where skills and market knowledge can be taught, mindset is much more difficult to cultivate.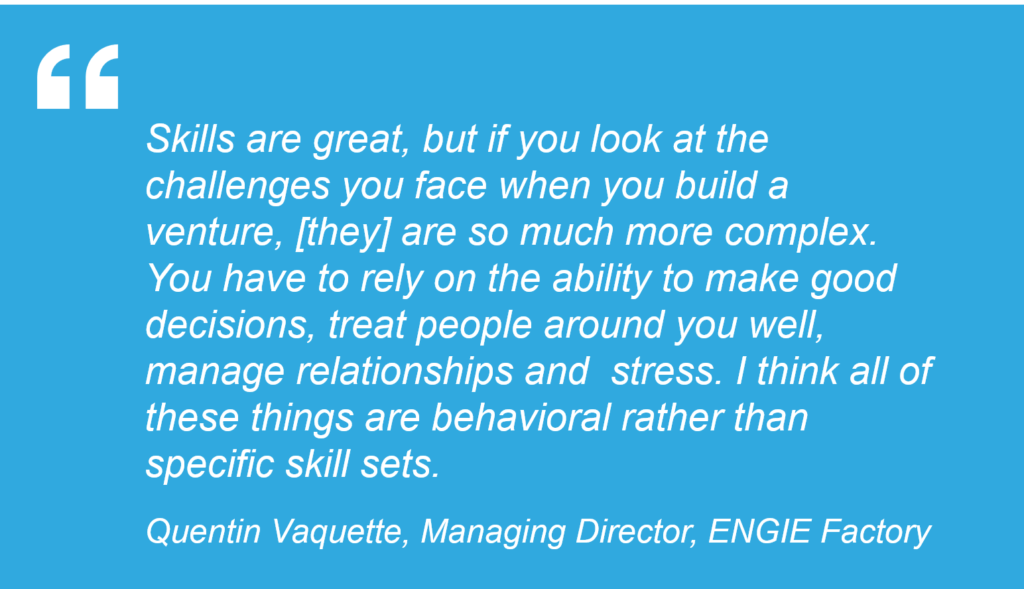 The best incentive for founders is adequate pay with significant equity
Both Matt and Quentin agreed that the best compensation to offer founders is a mix of adequate salary and a significant equity stake in the new venture.
The exact split of equity and salary may vary depending on the individual founder's risk profile and culture. "In the US, there are people who would easily take a reduced salary in exchange for greater upside elsewhere." Matt explained. "In Asia, there is also a tremendous entrepreneurial drive… [founders] willing to give up short term gain for long term incentive." However, it may be different in other locations or cultural contexts. In the UK, for example, there is not the same history of successful exits as the US or Asia meaning founders may prefer a smaller equity package in exchange for more short-term security.
The important thing is that the package is tailored to what best motivates the individual founder and compensates them for the risk they are taking.
We can do more to adjust for bias
Bias occurs in nearly all hiring, and especially in venture capital and startups. "I think that female candidates are definitely at a disadvantage…I think we can do better as corporate venturers," Matt explained. "We need to find founders that are right for the product we want to build" and men are not always the right fit. "We need founders to understand the customer, to understand the behaviours, the motivators, the drivers, the designs." This means a wide representation of founders is required.
This is something that we must consciously push to change. "If founders of diverse backgrounds are not occurring naturally, then we need to go out and look for these people."
A full recording of the webinar can be found here.
If you think that you might make a great founder and want to partner with us to build your startup that contributes to the zero-carbon transition, we would love to hear from you.
Interested in hearing more about ENGIE Factory's Venture Build program?
Leave us your contact info to keep up to date on our events, programs and ventures